Restaurants & Street Food
Don Pedro's
: Founded by two American chefs, this beachfront restaurant is arguably Sayulita's most upscale and popular spot. It features a great location, Mexican influenced international cuisine, and a lively weekly salsa night (More expensive).
Calypso
: This second floor restaurant in the center of town has great views of the plaza and the streets around it. The food is plentiful and a bit international (more expensive).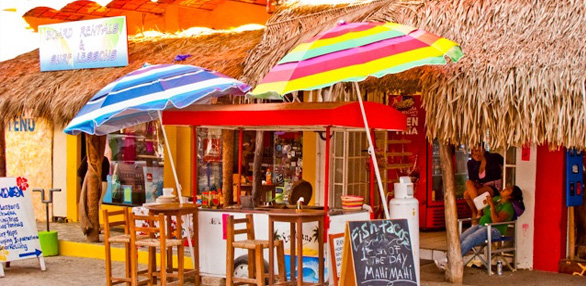 Café Sayulita
: On the main street, this popular eating place features Mexican food from many regions, but is best known for its chiles rellenos (Moderate). we personally love their fajitas.
Tierraviva
: Just one block from the beach, this breezy corner bar and restaurant offers good and unpretentious Mexican food (Moderate).
Chocobanana + Cafe Espresso
: Both right on the main plaza, these open air café offer good brunches half way between Mexican and American style. They also have free wifi access (Moderate).
Esperanza
: this out of the way place near the main Plaza offers delightful organic food for brunch, lunch and dinner with an emphasys on vegetarian/vegan locally grown food. Nice relaxed atmosphere and delicious hand made juices and shakes.
The real Fish Taco (also called Fish Taco my ass)
: Just off the main beach on the main drag they make probably the best fish tacos in town served always fresh and on bar tables. Service is sketchy and informal but food always delicious.
Itacate + Yeikame
: some of the most delicious and unpretentious food in town eaten right on the street is served in these 2 joints next to each other. Their focus is folk recipes with authentic and fresh ingredients ...always very tasty and always affordable!
Street food
is where is at in Sayulita and at night especially the streets populate with all kind of taco and empanada stands, churros and pastry trucks, elote on a stick and more...worth exploring all of them for an informal meal!